Fu Manchu
Date: 16 Mar 2018
Ticket: 4900 / 5900 Ft
Genre: Stoner Rock
Support: See Info Below
Start: 20:00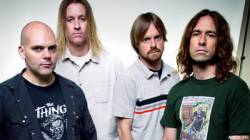 Fu Manchu A38 Budapest 2018
Fu Manchu, California's basic stoner band, has been kicking its desert rock hard for almost three decades. On their massive "Clone of the universe world tour" featuring their long and bursting gigs they will play all their brand new and greatests well-known songs. Their gig will be one of the greatest hits of the spring season.
Southern California's Fu Manchu began crafting heavy, psychedelic-tinged rock in 1990 with their debut single, "Kept Between Trees." Throughout the early '90s the group honed their sound on similarly intense singles, and released their debut album, No One Rides for Free, in 1994 on Bong Load Records. Daredevil, also on Bong Load, followed in 1995.
The group switched to Mammoth Records for their 1996 album In Search Of…; the next year, founding members Scott Hill (vocals, guitars) and Brad Davis (bass, vocals) added lead guitarist Bob Balch and former Kyuss drummer Brant Bjork to their lineup, and they released their second album for Mammoth, The Action Is Go. During this time the group gained a reputation as a powerful live act, supporting like-minded groups like the Melvins, Kyuss, White Zombie, Monster Magnet, and Clutch in the States, and Corrosion of Conformity, the Hellacopters, and Marilyn Manson in Europe.
1998 saw the release of Return to Earth, which collected their early singles, and the Eatin' Dust EP, which was released by Frank Kozik's Man's Ruin label. Fu Manchu released their fifth full-length album, King of the Road, in early 2000, following it up with a lengthy tour of the United States. They took time off to work on new material, emerging in the spring of 2001 with California Crossing. As their live show neared perfection, they took an opportunity to showcase their stoner rock stage skill with 2003's Go for It…Live!
The following year they released two new studio discs, Start the Machine and (Godzilla's) Eatin' Dust. And in 2007 the band returned with an angrier but typically heavy album titled We Must Obey, a sarcastic rebuttal directed toward anyone with the gall to try and push them around.
Fu Manchu Related Links
Venue & Gig Location: A38 Ship, Budapest